Preparing for retirement should create excitement, not concern. Yet for many, that's not necessarily the case.
According to a recent study, 60 percent of pre-retirees do not have a plan for how much money they will spend each year in retirement and where that money will come from.1 Additionally, three in four Americans remain highly anxious about their overall retirement outlook.2
That's where we come in.
We tailor a holistic financial plan specific to your financial dreams and goals. Within that plan, we can utilize various investment strategies and insurance products, including annuities, depending on your unique situation. From tax-efficient strategies to investment advice to protecting some of your assets — we'll cover as many bases as possible to help you create a strategy that supports your retirement lifestyle and long-term financial goals.
Once we understand your financial situation, risk tolerance and investment objectives, we can help you decide which types of products and services fit within your financial strategy.
Most importantly, we serve as a fiduciary.
As an independent investment advisory, we are product and service agnostic. Our loyalty is not to a company, but to you, our clients. All of our decisions and recommendations are designed to be in your best interest, and we act in a reasonably and prudent manner.
We believe every investor deserves accountability.
If for any reason you are not completely satisfied with our services during your first year with our firm, we will refund 100%* of any fees that you may have paid to our firm during our initial time together. We make the commitment to you because we are confident of the level of service we provide and that you will be happy with your results. You won't find that kind of accountability everywhere – but you will find it here.
At Curran Financial Partners, we can offer you the following products and services:
(Click the images below to learn more about each service)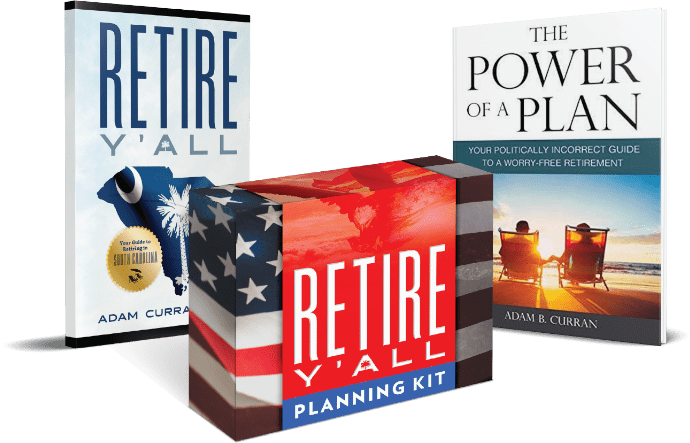 Get your Retire Y'all Planning Kit today!
Fill out your information below to receive Your Retire Y'all Planning Kit
and we will get in touch with you to send you a complimentary copy!