Your Retire Y'all Planning Kit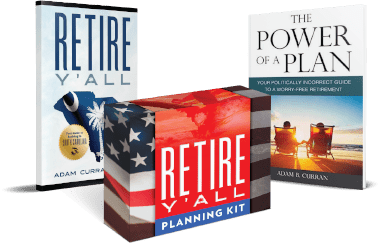 Adam Curran, CFP®, believes each and every retiree ought to have a living, breathing, and dynamic retirement plan designed specifically for life in their ever-changing state. In his books, Retire Y'all and The Power of a Plan, Adam tackles all matters of retirement: tax law, market conditions, investment strategy, real estate, health care, and more!
A good retirement plan gives retirees the permission and confidence to spend money to create meaningful experiences without the fear of outliving living their savings. After all, no one wants to wind up being the wealthiest person in the cemetery.
Throughout each of the books, Adam's message is resounding -- the result of good financial planning means you can finally reap the rewards after years of grinding and saving and truly enjoy all retirement has to offer.
The Retire Y'all book discusses the unique set of challenges that come along with being a South Carolina Retiree. Not in South Carolina? No problem! The Power of a Plan book is for you! With quick, digestible chapters you'll learn exactly what you need to know as you embark on this new chapter in life. Sign up to receive a free copy today!
---
Get Your Complimentary Planning Kit Today!
For your complimentary Retire Y'all Planning Kit call us now at 843.300.1182 or fill out the form on the right.
Request Your Retire Y'all Planning Kit
Fill out your information to receive your Retire Y'all Planning Kit and we will get in touch with you to send you a complimentary copy!